Dr. Vince Rigby
Dr. Vince Rigby has been practicing dentistry since 1999. He was born in Salmon, Idaho and grew up in Reno, Nevada. He attended the University of Nevada where he received his bachelor's degree in Health Sciences. Dr. Rigby then went to Colorado where he graduated from the University of Colorado Health Sciences Center School of Dentistry in 1999. Following dental school, Dr. Rigby came to Idaho to begin his career in dentistry. After working in a community health center in both Payette and in Nyssa for five years he joined the Ustick Dental Office team.
Dr. Rigby is a member of the American Dental Association, as well as, the Southwest Idaho Dental Society. He feels honored to provide one day a year of free dentistry to our community, called Dentistry from the Heart. He also looks forward to participating in a mission trip to Guatemala each year to provide dental services to those less fortunate.
Vince and his wife, Jen, love it here in the Treasure Valley. They have five children who they enjoy watching as they grow and develop. Their oldest daughter and her husband have blessed them with their first granddaughter, another daughter is now married and attending college at BYU Idaho, and their youngest daughter is currently serving a mission in Nevada. Their 2 sons are still at home with one excited to graduate from high school this year.
Dr. Rigby loves spending time with his family. He has many other interests as well that include biking, swimming, golf, and running.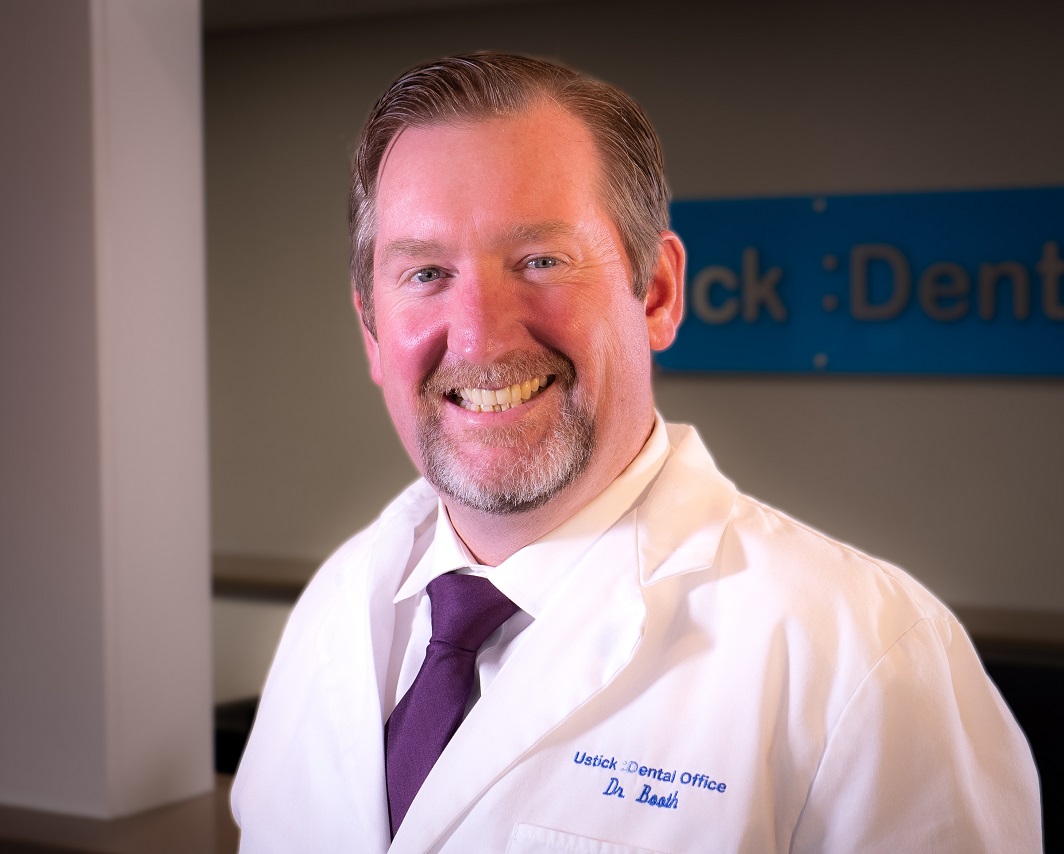 Dr. Gregory Booth
Dr. Booth is a Boise native, where he graduated from Centennial High School in 1998. He then headed north to Spokane, Washington to get his bachelor's degree in chemistry. Following a two year break from his education, Dr. Booth entered the Idaho Dental Education Program at Idaho State University where he completed his first year of dental school. Then it was off to Omaha, Nebraska where, in 2008, he graduated cum laude from the Creighton University School of Dentistry. Following dental school, Dr. Booth completed a two-year advanced training residency in general dentistry where he gained experience in all aspects of dentistry including the placement and restoration of dental implants. Dr. Booth is a very conscientious person whose top priority is to be there for his patients and to provide the excellent service that they deserve. Volunteering his time and expertise for Dentistry from the Heart is something he looks forward to every year. He is a member of the American Dental Association, as well as, the Southwest Idaho Dental Society.
When Dr. Booth is not practicing dentistry, he enjoys spending time with his wonderful wife, Katie, and their two boys. Their activities include all things outdoor, from golf, camping, and fishing, to snowshoeing, skiing, and snowmobiling.